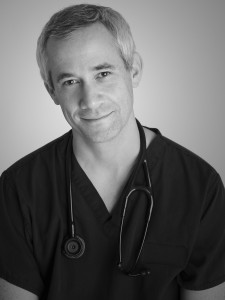 As an experienced consultant in both cardiology and medicine, Jeremy provides outpatient and inpatient management of a wide range of cardiac and medical conditions. Within the NHS he delivers cardiology inpatient services at Calderdale Royal Hospital and has a weekly outpatient clinic at Huddersfield Royal Infirmary, which is usually on a Wednesday afternoon. He is a high volume angiography and angioplasty operator supporting both elective and acutely unwell patients at Calderdale and Huddersfield, whilst supporting 24/7 regional emergency angioplasty services at Leeds General Infirmary.
In the private sector Jeremy holds outpatient clinics at Spire Elland Hospital and has admitting rights for inpatients at both Spire Elland Hospital and Spire Leeds Hospital, where interventional cardiac procedures can be performed if required. He is a registered provider with many established medical insurance companies including Cigna, PruHealth, Simply Health, WPA, AXA PPP, AVIVA and BUPA. Many patients choose to self pay whether this be for ongoing care or just for an initial consultation. This offers them added convenience, rapid access to appointments, a consultant opinion along with continuity of care, seeing the same doctor on each occasion. 
His patients present with very varied underlying medical problems, from the very straightforward to the very complex. He is happy to undertake more routine cardiac health screening to identify and modify future cardiovascular risk. Many patients have a range of additional non cardiac conditions and Jeremy enjoys taking a holistic approach to their care. This is of particular relevance increasingly in older patients who may be taking a range of different medications. Where conditions require additional specialist input then Jeremy has developed a wide network of colleagues to whom he can refer when needed.
From a social and vocational perspective, Jeremy is able to offer cardiac assessments for individuals undertaking increased levels of exercise, whether this be more mature people considering gym membership or individuals performing competitive sport. He is able to complete cardiac DVLA assessments which are often required for individuals wishing to gain Group 1 and 2 licenses including HGV and taxi drivers.
Angina
Arrhythmias
Cholesterol and Lipids
Coronary disease
Heart failure
Health Screening
Hypertension
Postural hypotension
Risk factor modification
Medication review
Myocardial infarction
Syncope
Chest pain
Dizziness
Falls
Loss of consciousness
Palpitations
Seizures
Shortness of breath
Tiredness and lethargy
Angina
Atrial fibrillation
Cardiomyopathy
Chronic lung disease
Diabetes
High blood pressure
High cholesterol
Hypothyroidism
Oesophageal reflux
Pericarditis
Postural hypotension
Pulmonary embolism
AVIVA
AXA PPP
Cigna
PruHealth
Simply Health
WPA